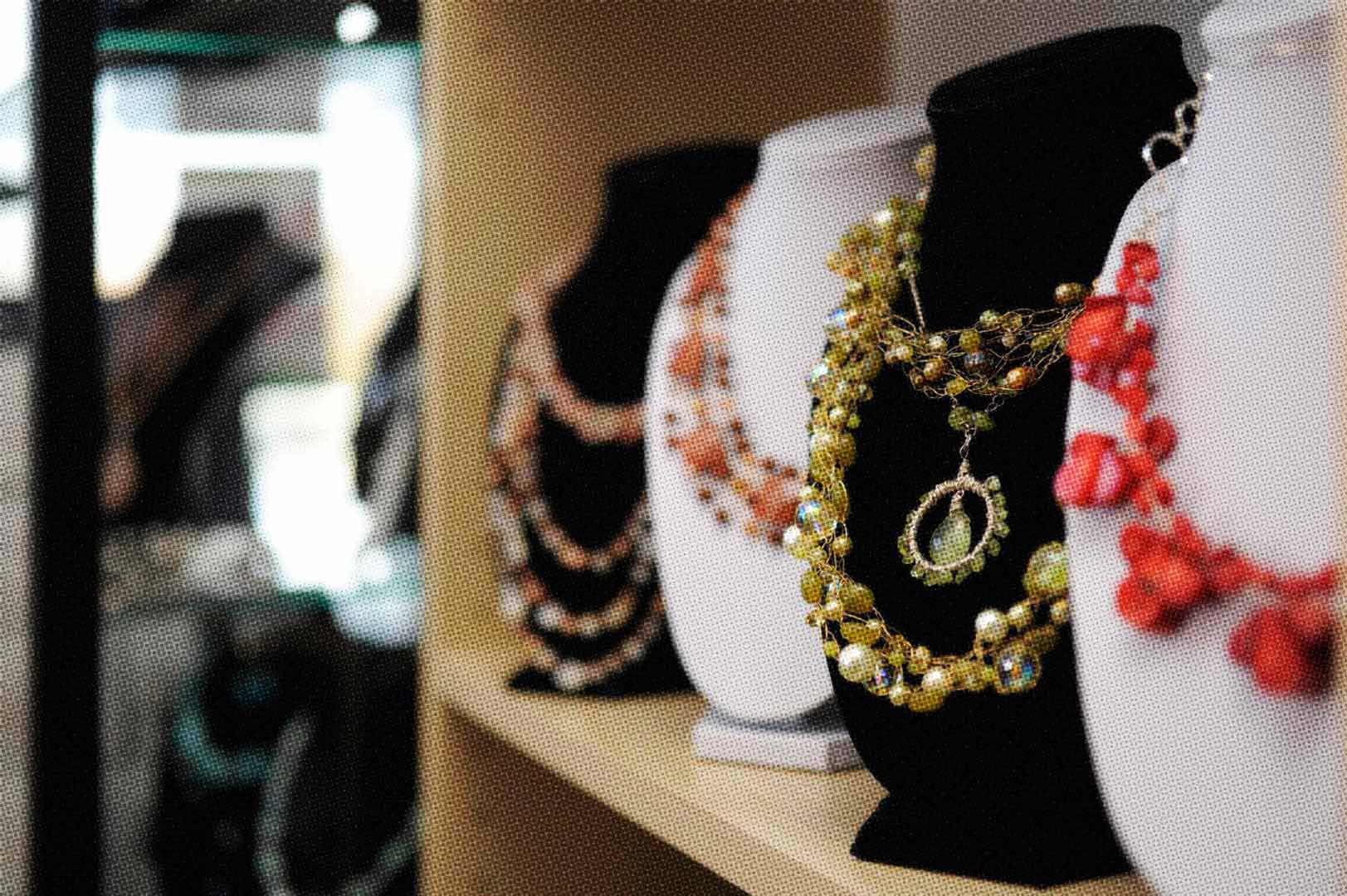 Welcome to Alira Treasures!
We are an artisan jewellery studio based in Toronto, Canada. We have one mission: to craft nature's precious and semi-precious treasures into unique fashion and statement jewellery that makes you shine.
From amethyst and bismuth to pearl and coral, Alira Treasures has the perfect earrings, bracelet, or necklace to enhance your favorite outfit or give as a gift. We are constantly creating new designs, so be sure to check back often.
Our original pieces are available through
Etsy and at these local Toronto shops:
ALIVE NUTRITION
5050 Dufferin Street, Unit 104
Toronto, M3H 5T5
(416) 739 8008
FLOWERS TIME
180 Steeles Ave West, Unit 14
Thornhill, Ontario L4J 2L1
(905) 771-1088
BLUE BANANA MARKET
250 Augusta Ave.
Toronto, ON M5T 2L7
Studio Visits
Would you like to visit our studio to try on our newest work? We would be happy to set up a personal studio visit! Contact us at 1.416.788.2393 and we will schedule a time that is convenient for you. We also host regular Open Studio events. Like us on Facebook or sign up for our newsletter for more information!
Art Shows
We are active participants in art and craft shows in the Toronto area. For information about upcoming shows that we will be taking part in, make sure to like us on Facebook or sign up for our newsletter!
Jewellery Party
Let Alira Treasures provide the entertainment at your next special event or get-together! We are always happy to present our jewellery outside of the studio. Throw a jewellery party for your friends and family in the comfort of your home or treat your co-workers and employees at the office! We will host a lottery to provide one of your lucky guests with a free pair of earrings. In addition, as the party host, you will receive:
10% of sales as credit towards your own personal purchase.
A 25% discount on any one piece of Alira Treasures jewellery.
A special discount code for 10% off all online Alira Treasures purchases for one full year.
$20 towards Alira jewellery purchases for each guest that books their own party with Alira.
Call us at 1.416.788.2393 or email us at info@aliratreasures.com today for more details and suggestions on hosting the perfect Alira Treasures party!
Custom Design
Would you like us to create a custom piece of jewellery just for you? We can design and craft a unique work of jewellery art to complete a set, match your favorite outfit, or even make you shine on a special occasion! Please take a look at our styles and materials and use the contact form below to receive a free estimate for your dream piece!
We require a $25 down payment prior to starting a custom design. The remainder is to be paid upon completion and prior to shipment. While working on your jewellery, we will provide you with clear, high-quality photographs of the piece and work with you until you truly love it! Due to the highly personalized nature of custom orders, we are not able to offer returns or refunds.
Repairs
We are also able to repair or revive broken and outdated jewellery. Contact us if you would like us to restore your favorite piece!